Robotic process automation is a highly demanded technology across the fields. While ERP was popular in the '90, RPA started replacing this outdated system in 2016. According to a McKinsey survey from 2018, robotic automation was a necessity. This global survey highlighted the aspects that need to be worked on in the coming years. In their second global survey, McKinsey found that all the automation targets have been met. Furthermore, newer automation imperatives have been set. These imperatives influenced the trends seen in 2021.
RPA technology replaces humans. It is intelligent as it can key in, navigate, understand, extract, and do much more. It can carry out these tasks quicker than humans. This makes the work process more streamlined, flexible and responsive. All these traits help with the profit margins increasing, which is always what a business looks for as more enormous profits are always a target.
Market Size of Robotic Process Automation
RPA is taken the business world by storm since 2016. By 2020, every company in need of automation implemented and achieved all targets. Looking at the global influence, the market size for RPA is in the billions. Statista released a 10-year forecast from 2020 till 2030. It is based on the market size and popularity from 2020. This forecast suggests that the RPA market size will be 7.01 billion in 2025 and 13.39 billion by 2030.
Benefits of RPA Technology
As the RPA technology streamlines everything, it also increases job satisfaction for the employees. The employees are motivated to perform, which helps in their engagement, productivity and results. The RPA system is primarily used to remove small mundane tasks from the employees.
On the other hand, this system implementation does not take long. As it is a non-invasive system, there is hardly any reason to disrupt the standard workflow. This technology works best with systems using database access, VDIs and lacking APIs.
Impact of RPA on Labor Force
After seeing RPA replace and take on work from employees, there was a fear in the workforce market. The general notion was that the machines would take over completely. This caused an outcry. In reality, businesses need to mix and match labour and machinery. Both are dependent on each other. RPA caused job transformations. The machinery is not here to replace human labour.
Application of RPA in Industries
RPA has been implemented in several large industries. The manufacturing and automobile industries used automated robot systems in their assembly lines. Cars manufacturing saw a rapid increase after installing such systems.
Other industries were inclined towards the RPA system after seeing success in the pilot system. These industries are not wholly convinced. The trends and forecast show that RPA will be implemented in a few short years. The figure from Clarion Technologies shows how RPA is used in several industries.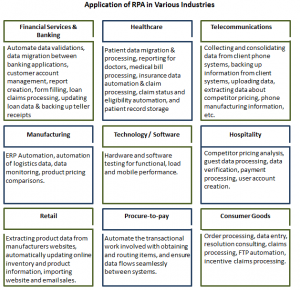 Trends in 2021 for RPA
1. Intelligent Automation: The Unique Main Focus
Intelligent Process Automation is set to redefine the Robotic Process Automation technology for the future. It can process, mine and extract a set process or task. When combined with machine learning and Artificial Intelligence, the process is intelligent and data-driven.
The RPA tools can provide the users' insights from the repetition of the tasks carried out by RPA. The bots will evolve and self-learn by using artificially intelligent algorithms. This self-learning process is continuous so that the bots will remain up-to-date. RPA helps identify patterns apart from entering and scanning the data. Better trial and error capabilities to find accurate and effective solutions focus on the RPA intelligent automation trait.
2. RPA is going to replace the outdated ERP
ERP was the solution used in the 1990s in different sectors. Now, RPA systems will be used to replace ERP for automation. RPA systems hope to close the gap between ERP processes and the newer technology for businesses. It will aim to increase customer satisfaction.
3. Intelligent processes and Cognitive Automation will go hand in hand
As RPA has been in use for several years, experts and users have been able to identify the limitations of this system. So, now vendors of RPA are researching how to incorporate intelligent processes and cognition automation in the bots to overcome these limitations.
4. Data privacy has become a more significant concern for RPA.
As RPA systems can mine and extract data, invasion of privacy is a concern for the users. The risk for an attack is very high as data discovery is easier with this system. Each company using RPA needs to address this issue as a priority and make a clear policy to avoid lawsuits. RPA is further developing and incorporating intelligent systems, so this privacy issue is at the forefront.
5. Employee Experience
User experience (UX) has been the company's focus for several years. Along with this, employee experience is also being focused on in the last few years. Especially when the COVID-19 pandemic made companies operate, the focus on improving, enhancing employee well-being and experiences, and enhancing their productivity and engagements was considered a priority.
The RPA enhances the human interactions between employees. It can help conduct more strategic tasks meaningfully in the company. As opposed to this, poorly managed RPA can be harmful as well. It can also cause dissatisfaction, which is not conducive for any business.
6. Going Paperless
RPA makes the company go paperless, which is a positive for environmental conservation. Less paper use means that trees are cut down and improves air quality. RPA can do mining, extraction, and storage work electronically, eliminating paperwork.
7. Affordable RPA Technology
Microsoft, Google, and Amazon are giants and spreading themselves to the RPA market. This could help make RPA licenses relatively cheaper and more affordable for smaller firms.
How Offshoring helps in RPA
The Implementation of Robotic Process Automation (RPA) in Companies can Help Reduce Offshore and Onshore Operations Cost by More Than 25% in Most of the Cases: IndustryARC.
RPA meant that companies could get in-house capabilities. This caused a flurry for offshore vendors. With the increase of RPA, offshore vendors evolved themselves. For vendors, they could still earn a lot. For enterprises, in-house capabilities were costly. It is still cheaper to invest in an offshore team. Technology is changing all the time. With an offshore team, these newer technologies are readily available. The vendors are responsible for providing and training the team members.
The Implementation of Robotic Process Automation (RPA) in Companies can Help Reduce Offshore and Onshore Operations Cost by More Than 25% in Most of the Cases: IndustryARC
Offshoring helps in reducing hiring costs as well. The vendor pays the team at the salary agreed with each member. It saves the business time as the hiring process is with the vendor. In case of more members, the vendor will hire and adjust rates. So, offshoring is still essential even with robotic process automation services.
Mashkraft for Robotic Process Automation Solutions
Mashkraft has provided RPA business solutions to clients. Our clientele is in Europe, North America, Asia and Africa. We provided them with an offshore team to facilitate their shift to the RPA system. Everything was formulated according to the budget and needs, so reach out to our experts. You can check out our success stories on www.mashkraft.com.
The Bottom Line
RPA trends are changing as the requirements in the world change. This is an evolving technology, so newer innovations will keep incorporating and sustainable for all sized business users. This is in demand following the aftershocks of the pandemic and uncertainty in the world to find a solution for a skilled workforce.